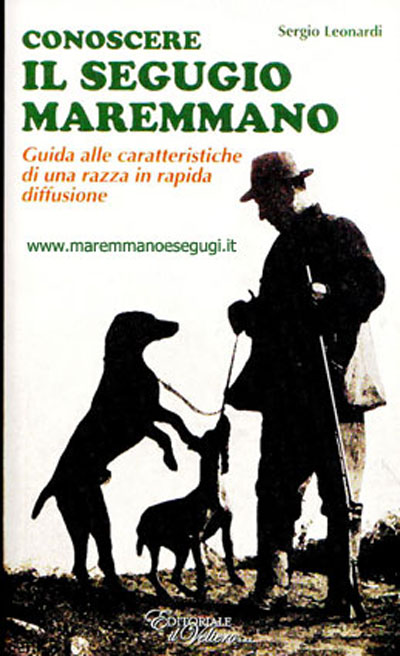 "Conoscere il Segugio Maremmano"

The book written by me "knowing the hound MAREMMANO"
is a summary sought, characteristics and peasant of
using this auxiliary. Furthermore I would like to make
some stories and usage of the dog. Its origins.
Sergio Leonardi

A book that does not have to lack to the hunter,
the breeder, who wants to be approached this race.
128 pages with many photos of recognized dog maremmani
specialist for the wild board .
One new Italian race
BY Sergio Leonardi
e-mail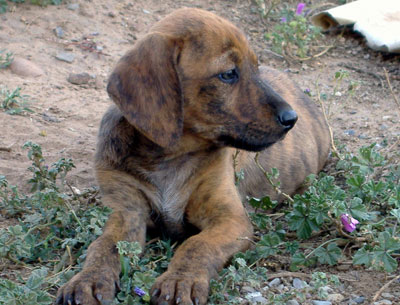 Standard Segugio Maremmano

Standard ENCI-deliberation No. 192/03/SB of 07/07/2003.

Name of the breed: Hound Maremmano to roll, Fawn
Hound Maremmano to roll, black and Tan
Hound Maremmano to roll, Brindle
Hound Maremmano sleeping bag strong, Fawn home country: Italy.
Date of publication of the standard in force: 07/07/2003.
Use Hound specializes in hunting wild boar.
Classification:
Group 6: Hounds and dogs to track blood and similar breeds.
Section 1.2: Hounds of medium size with proof of work
Use:Hunting dog from followed specialized in hunting wild boar. Fits well even in the hunt Hare and other mammals.
General appearance
Dog simple, rustic look pleasingly, rapid movements, mesomorphic animal with trunk in the rectangle, with skull head off enough; superior longitudinal axes craniofacial slightly divergent, ear stuck up, expressive eye and proud, bulb with dark irises and careful and intelligent expression.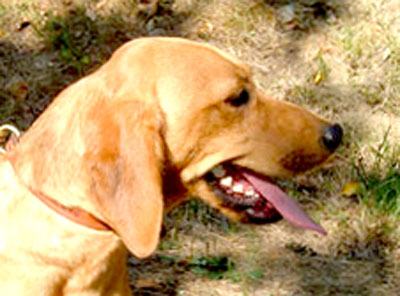 BEHAVIOR/CHARACTER

Hound specialized boar. With great passion for hunting and strong temperament, voice loud and pleasant (Italian) welldifferentiated throughout ouster, safe and quick fix an underarm action, excellent, cautious and safe abbaiatore firm, tenacious Tracker. Hunting well both alone that wetsuit.
HEAD
Its total length is 4/10 of the height of the Withers, brachicefala, cephalic index total 51 to 53 with upper lines craniofacial slightly divergent, tolerated if parallel, always good chisel, must not show wrinkles and always with skin ben adherent to surrounding tissues. The length of the muzzle is approximately 1/12 of the length of the skull.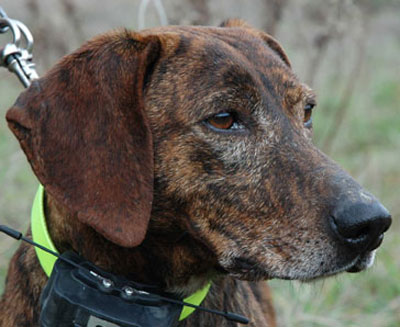 CRANIAL REGION

Skull: dry well Chiseled, slightly convex shape, wide at parietal with frontal sinuses and developed zygomatic arches arches, its length is greater than or equal to the length (rarely see cephalic index). Occipital Protuberance little marked as little evident is the indentation. .
Stop: Depression craniofacial poorly marked.
FACIAL REGION: its Snout length is slightly less than the total length of the head, nose slightly convex or straight, truffle the nose, with ample margin and with nostrils open well and great, always humid and cool black, thin lips, read, decisive bottom a semicircle stringed very close but that determine the profile of the muzzle, never pendants. The color of labial margins must be black. .
Jaw: robust forms trunk Conic, perfectly matching with dental arches before.
Cheeks: Dry.
Teeth: composed of white teeth and regularly aligned, comprehensive development and number, closing scissor incisors, tolerated pincer.
Eyes: semi-lateral position slightly oval with IRIS dark enough, with lively expression, careful, which demonstrates intelligence, eyelids adherent to the bulb, palpebral black pigmentation.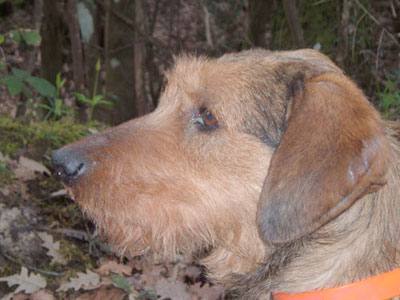 Ears:
hanging slightly wide and placed above the eyes, plates and adherent to the cheeks, length, such that if distended covers the eye, triangular in shape, just rolled bottom. Furniture in attention.
NECK: a truncated cone, ben outgoing trunks, slightly shorter than the total length of the head, dry, with muscles, absolutely devoid of dewlap.
BODY: Trunk: robust, whose width of 1/10 the height of the Withers, without losing in harmony and balance.
Withers: Very high on the line of the spine to the scapula and narrow, in harmonious merger with the attack of the neck, upper trunk straight line.
Chest: well developed in three dimensions, with ribs rather circled, the sternal line dates from moderately to the abdomen, which has never retracted.
Rene: robust and well muscled.
Croup: right length and width, sloping from 20 to 25 degrees.
Queue: can be amputated just under half of its length. Set the level of the line of the Croup. In subjects at the long tail is gradually tapering towards the tip, never frangiata. Tolerated subject Microhylidae.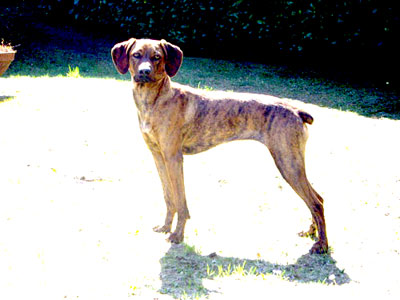 ARTS:

Forelimbs Provided excellent long muscles and dry, shoulder free movements and well-targeted whose angle acromioclavicular ideal is 105, elbows adherent to the thorax, forearm definitely perpendicular to the ground and with region carpiana rightly flexed. Foot oval, with fingers ben compact soled coriacea, strong preferably black nails.
Hind limbs
Ben angled and in perfect appiombo with the tarsiana region perpendicular to the ground. The foot is less oval of front and with all the requirements of this. Thigh muscle. It is tolerated the spur.
GAIT/movement: Always loose and lively vocato Gallop; the action hunting can impose the pace and the trot.
SKIN:consistent and well adherent in all parts of the body.
COAT: the coat occurs in colors: fawn from loading to bland, black-Tan and Brindle. In both colors may be the presence of white, positioned in the correct locations: quadrupedally, foot and region carpiana and tarsiana, neck, chest, list star on the forehead and on the tip of the tail.
The texture of hair comes in two varieties: the roll and strong hair.
In roll weaving is vitreous, dense evenly distributed throughout the body, defenses are not or hardly mentioned, often can be found in the Undercoat as well as some pel coarse placed on the snout and limbs from 1 to 1.5 cm.
In variety strong its length is from 3 to 4 cm always evenly distributed and rough to the touch.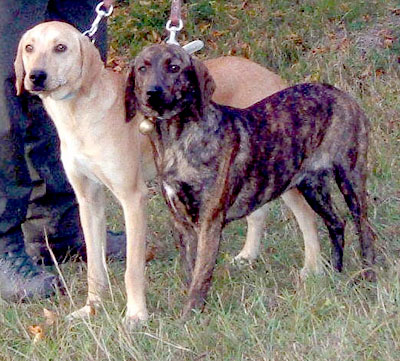 SIZE And WEIGHT

Height at Withers: males from 48 to 54 cm, females 46 to 52 cm.
Are tolerated 2 cm less or more subjects.
Weight: from 13 to 23 kg. (13 kg minimum weight in females and 23 kg maximum weight in males).
DEFECTS
Any deviation of the properties listed in the description of the various regions constitutes a fault.
Disqualification overshot bite and prognathism, nasal concave, monorchidismo, cryptorchidism, incomplete development of one or both testicles, color other than those listed, strong depigmentation, eye gazzuolo, short-tail.
Defect ELIMINATION heights and weights higher or lower than expected. Craniofacial convergent Axes